NIKKISO CULTURE
2023/11/07
Creating even more Nikkiso innovations with the establishment of the Medical Technology Center
Interview
Technology
Hemodialysis
Medicalbusiness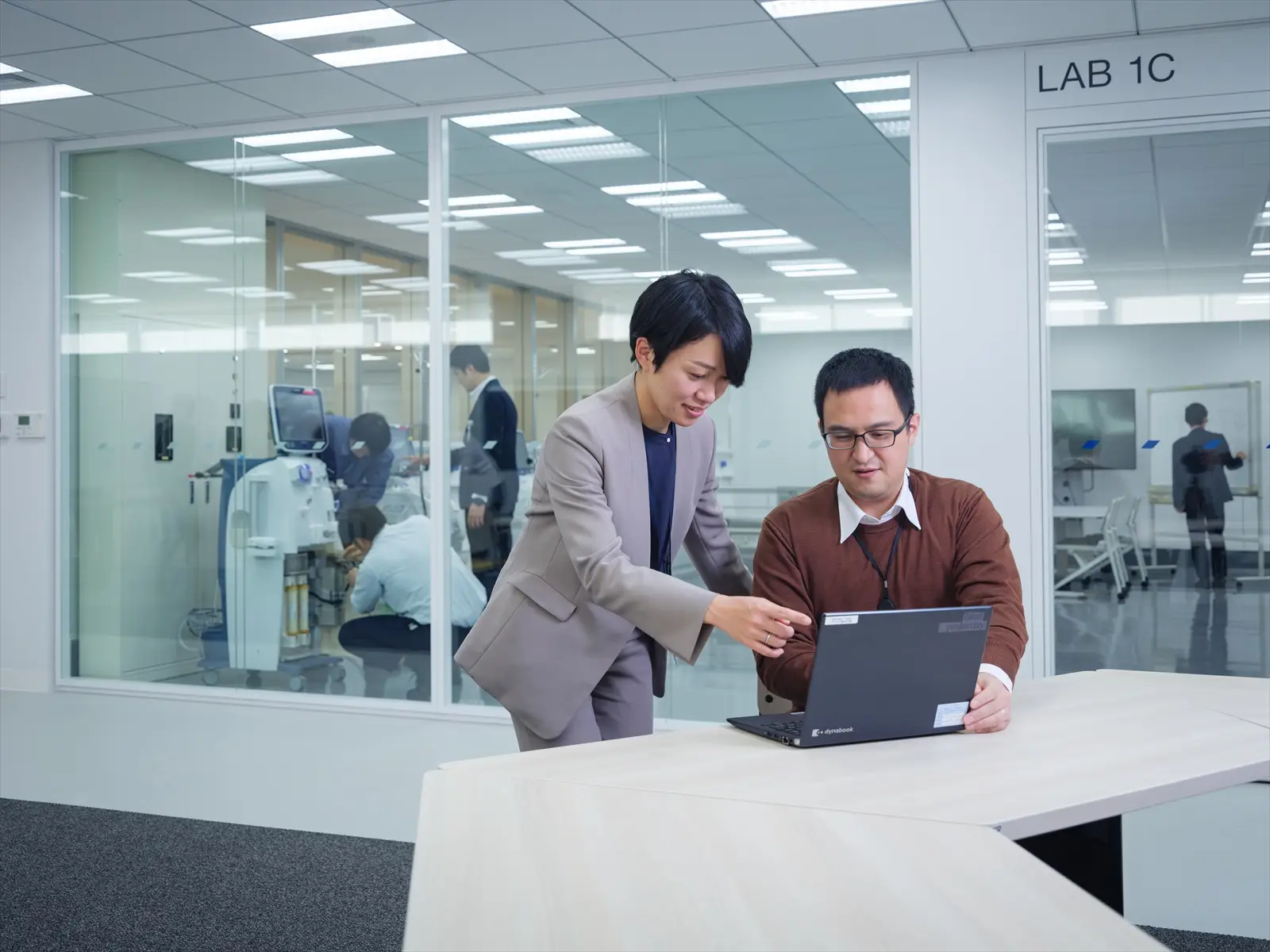 The number of patients requiring dialysis treatment is increasing worldwide, and the population of Japan is aging rapidly. The needs of the market when it comes to Nikkiso, a company which develops dialysis equipment for domestic and overseas use, are becoming more diverse and sophisticated every year.
In order to continue contributing to medical care in the midst of this social transformation, Nikkiso established its Medical Technology Center in Higashimurayama City, Tokyo, as a new research and development base. The company did this with the aim of evolving its original technologies and creating new technologies. The center commenced operation in January 2023.
We interviewed Kazumi Yokoyama, head of the Medical Technology Center. We talked in detail about the aspirations behind the opening of the company's new base and the appeal of the facility.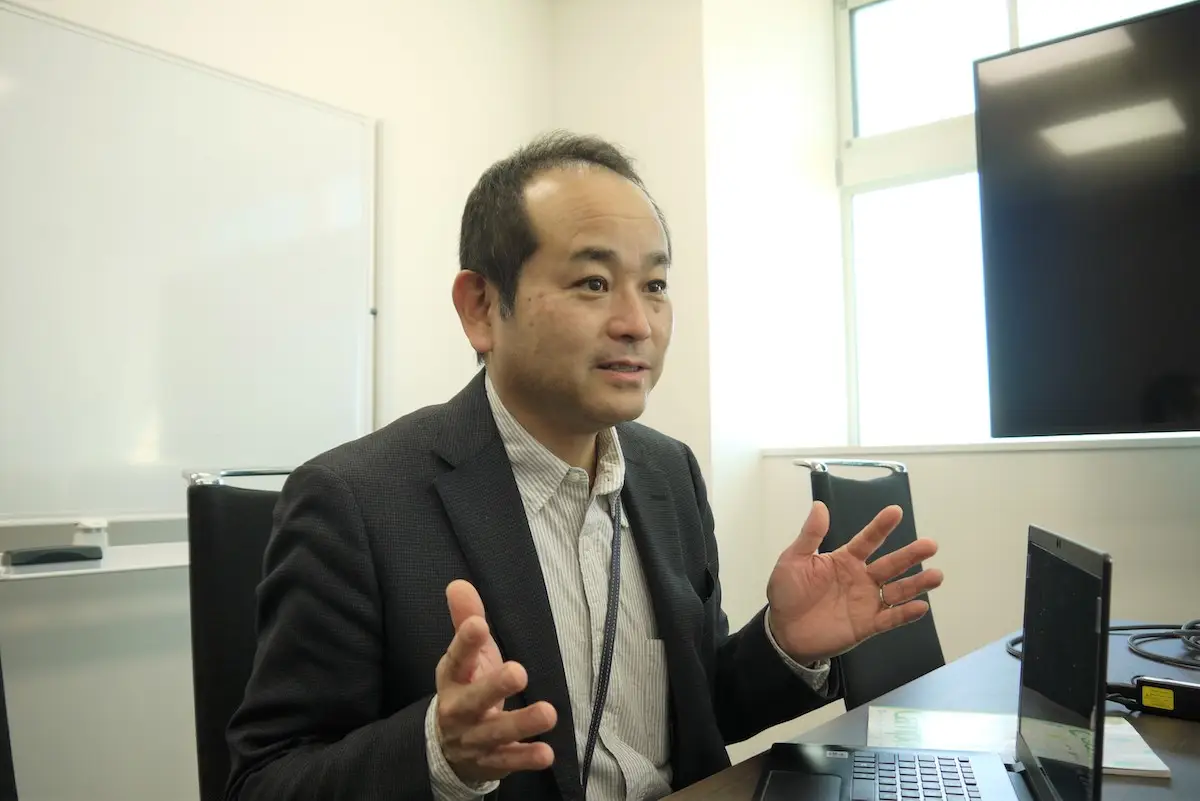 Kazumi Yokoyama: Head of the Medical Research and Technology Center at Nikkiso's Medical Division. After joining the company in 1987, he was involved in the development of dialysis equipment for many years. He served as vice president of Weigao Nikkiso and senior manager of Kanazawa Plant, and is currently working on the management of new product design and technology development to add value to the medical field as head of the Medical Research and Technology Center.
Strengthen product development capabilities by reorganizing company bases to meet the needs of society and customers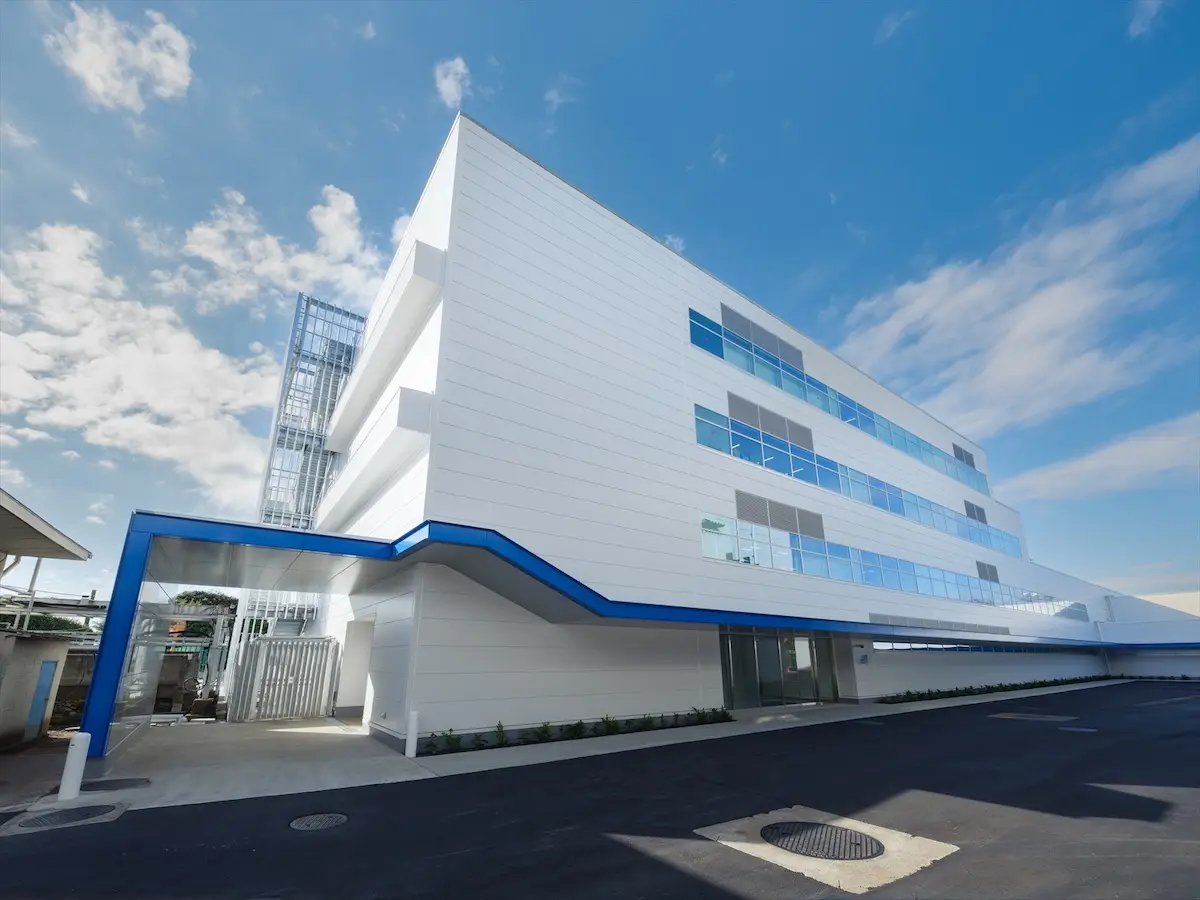 ――In this article, we will talk in detail about the Medical Research and Technology Center, which has been established as a new research and development base for the Nikkiso's medical business. Could you first give us some background information on the new base?
Yokoyama: The number of dialysis patients has been increasing in recent years, especially in Asia, and demand for dialysis treatment is expected to increase going forward as well. In this context, it will be important for us to provide better dialysis treatment in order to ensure the continued lives of dialysis patients and to reduce the mental and physical burden involved in continuing treatment.
In Japan, where the population is aging, the proportion of elderly dialysis patients is increasing. The difficulty involved in safely providing dialysis treatment while maintaining stable states of health, has also increased.
In order to proceed with treatment, healthcare professionals make decisions based on the conditions under which each patient should be treated. It is hoped that dialysis equipment will provide information that can be used as a basis for such decisions and play a part in treatment.
The Medical Research and Technology Center was established to strengthen our product development capabilities in order to meet the needs of society and customers when it comes to what Nikkiso provides. These needs are becoming ever more diverse and sophisticated.
―― Would you please give us an overview of the new Medical Research and Technology Center in Higashimurayama?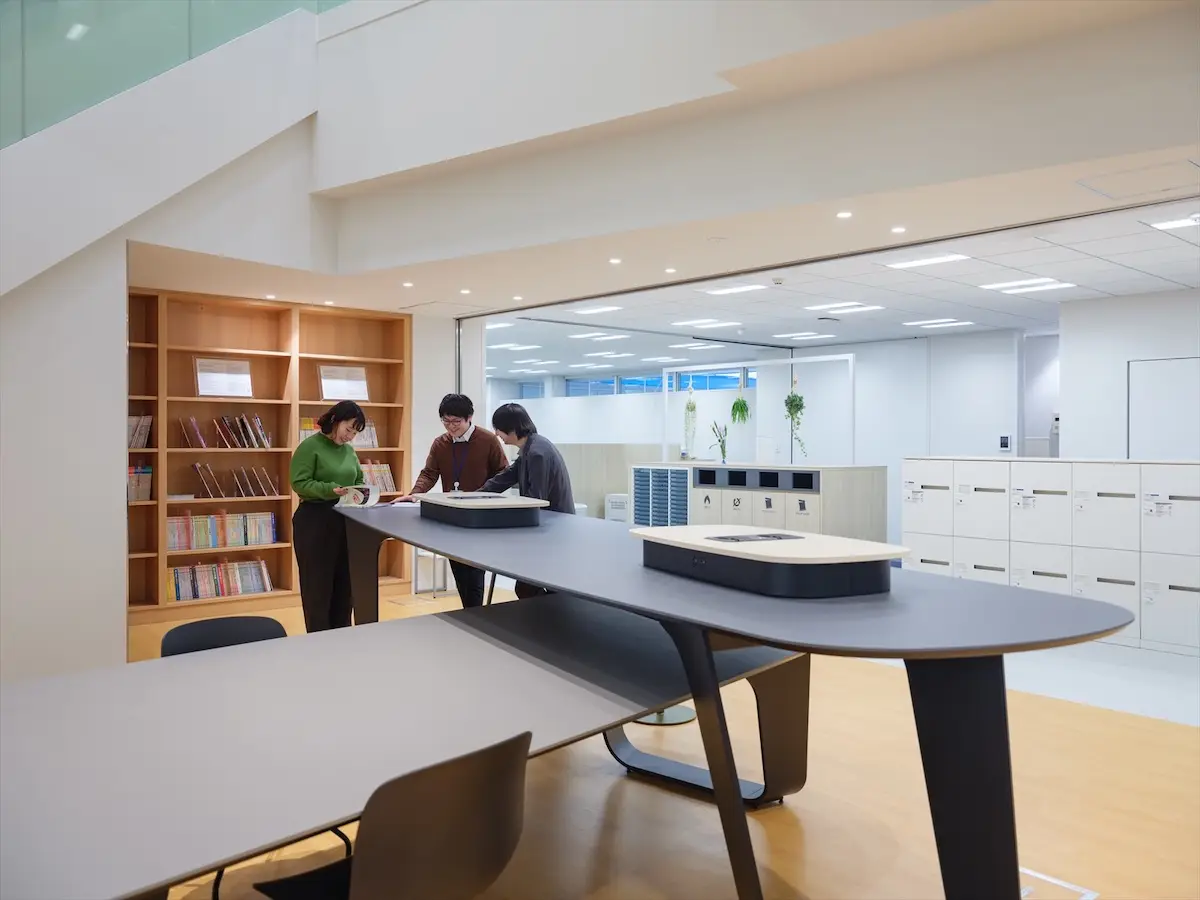 Yokoyama: The Medical Research and Technology Center is a newly established medical research and development facility located at our company's Higashimurayama base. We transferred the research and development functions of our medical business, which were originally located in Shizuoka, to the Nikkiso Institute of Research and Technology in Higashimurayama. The company began operations in January 2023, and has been involved collectively in development and quality assurance for medical devices.
The concept that the center is based on as a whole is interaction between individuals. By establishing a base in Tokyo, which could also said to be the center of Japan, we aim to promote various interactions and generate unprecedented innovations.
――What kind of interactions do you expect to generate at this base? And what kind of impact and changes do you expect to see take place?
Yokoyama: We cannot fulfill our mission of continuing to develop new things that customers and patients want, if we are manufacturing in a closed world based only on the technologies and ideas we have right now. It is based on this idea that we would like to create what is being sought after by interacting with medical professionals and subsequently gaining an understanding of their intentions.
It is also important to have full knowledge of how parts are made, their performance and other such elements when going about our manufacturing process. We believe that visiting companies which are providing their cooperation in product manufacturing and seeing the processing methods being deployed with our own eyes, is something that we can leverage when it comes to the development of technologies, such as by reflecting knowledge having to do with parts upon the design of our products.
In addition, the Nikkiso Institute of Research and Technology in Higashimurayama is home to research and development functions not only for our medical business, but also for our industrial and aerospace businesses. Thus, the establishment of the Medical Research and Technology Center has greatly reduced the distance found between our engineers.
Each division is characterized by unique sets of knowledge and experience. For instance, the industrial division may use certain methods to automate production and increase efficiency and materials may be used a certain way when it comes to aircraft. We are hoping that those elements can be applied and incorporated into new ideas.
A new base full of devices serving to encourage interaction between people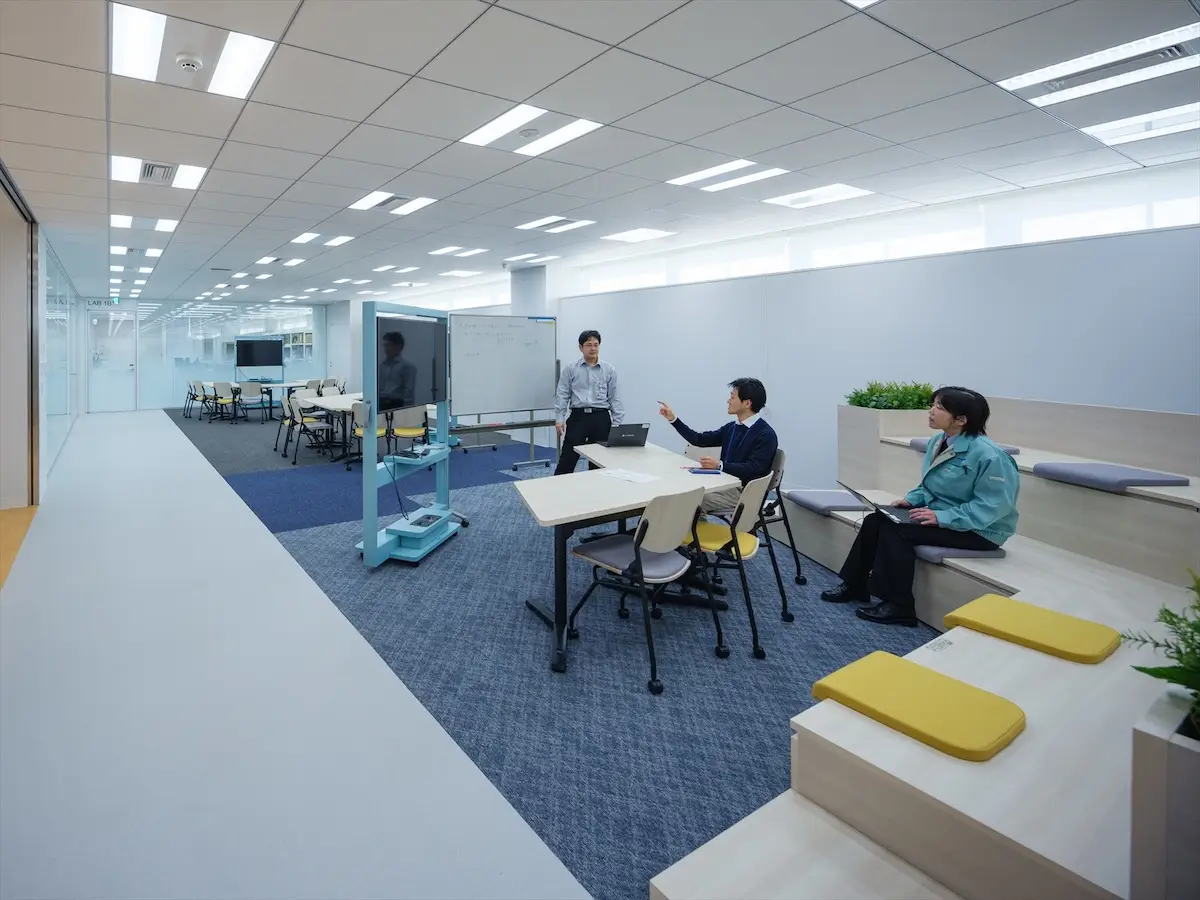 ――What are the features and appealing elements of the Medical Research and Technology Center?
Yokoyama: The facility is based on the concept of interaction, so the key elements which characterize it are openness and freedom.
There are no assigned desks for employees working at the facility, so they are free to choose where they work. The facility features spaces where one can work while drinking delicious coffee and an open terrace where one can breathe the outside air. This means that employees can work while also feeling refreshed at the same time.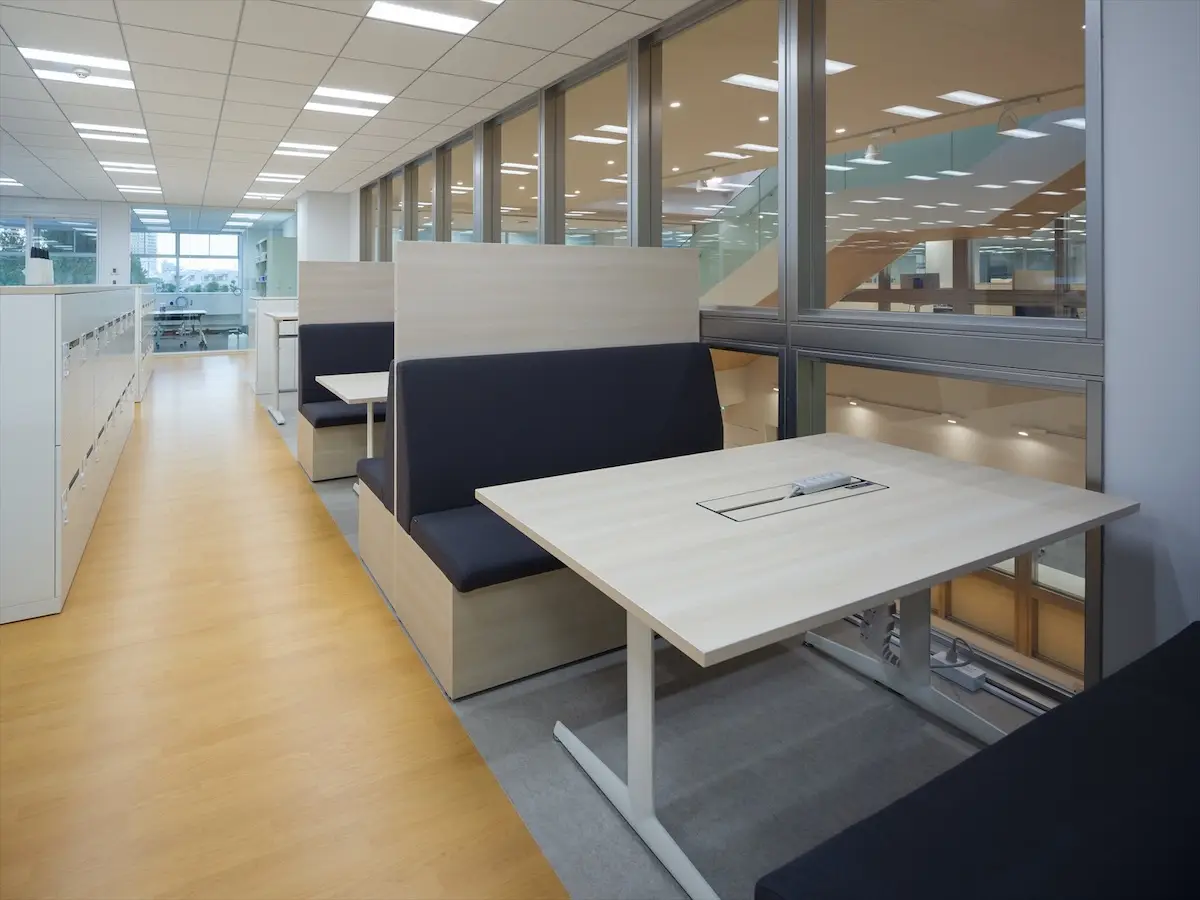 In addition, there are many spaces that can be used freely without needing reservations. Such spaces are also where casual dialogue can take place when one is stuck with an idea or when one wants to confirm something or consult with colleagues about something.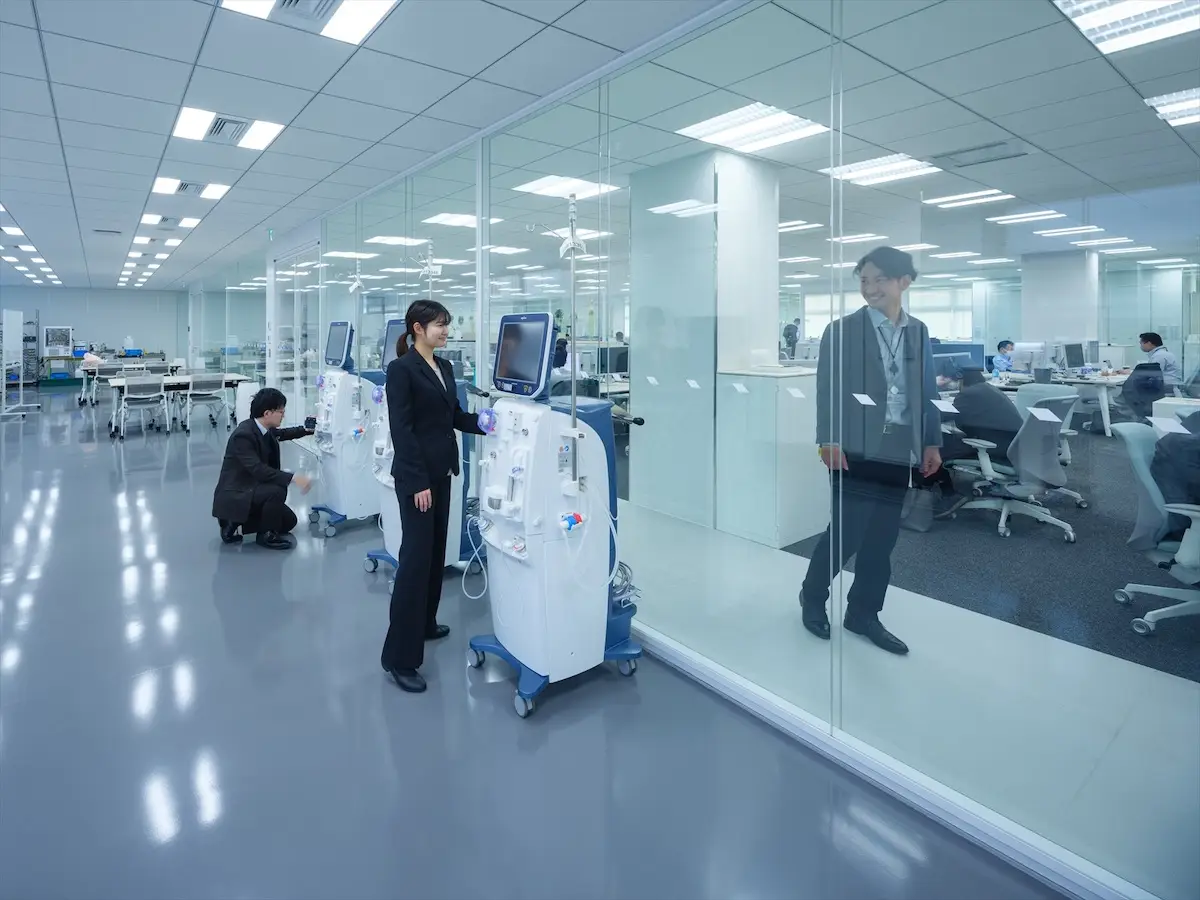 Offices (where design and other office work take place) and the testing rooms (where product testing and evaluation take place) had previously been separate rooms. At the new base, these two rooms are separated by glass so that people working in them can see one another.
We would like to make full use of these kinds of mechanisms as they allow us to do office work in front of the equipment and go back and forth between the two rooms to conduct tests and evaluations while also undertaking dialogue with colleagues.
――Are there any facilities that have a good reputation among the employees who actually work there?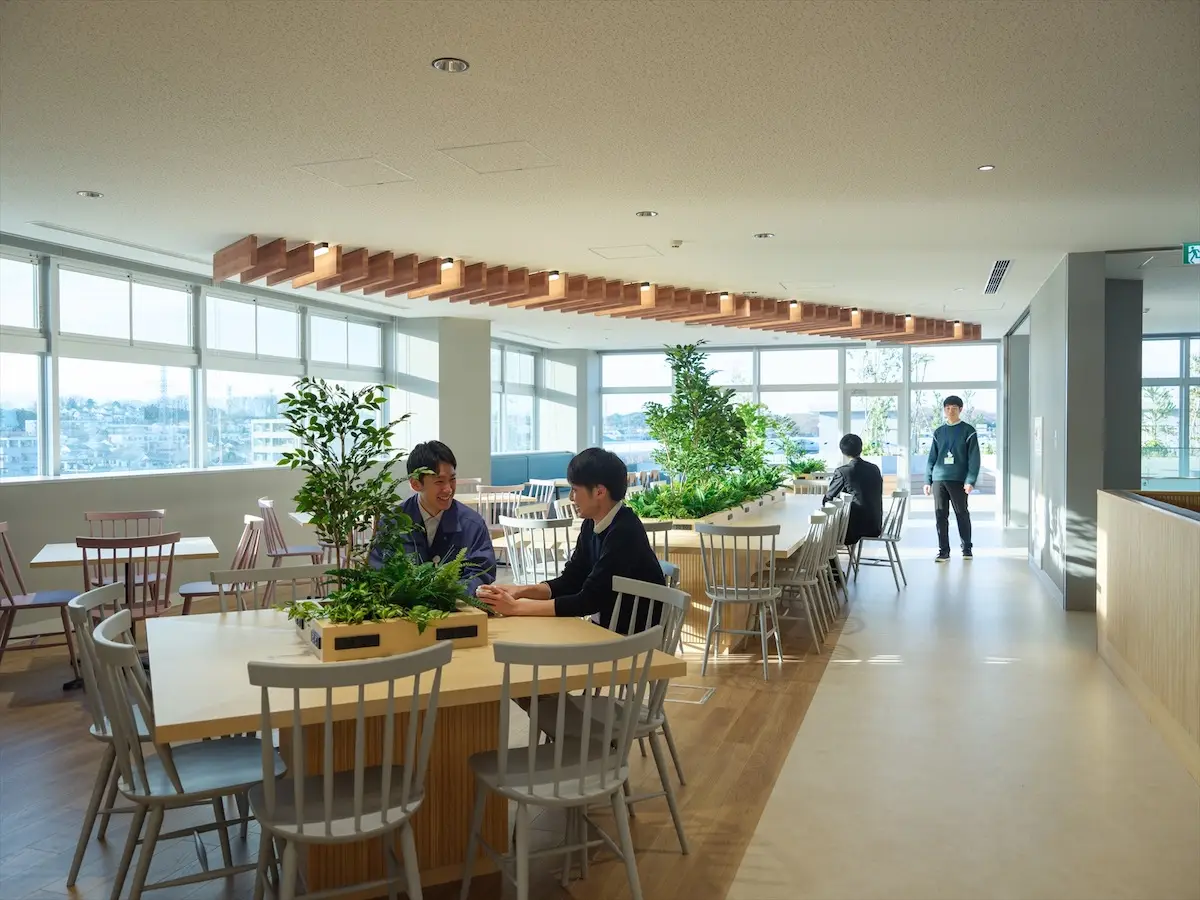 There are particularly high levels of satisfaction when it comes to the cafeteria, which has a good reputation for its delicious, high-quality food. Many employees seem to be motivated by the meals served here. They can enjoy a variety of meals, from nutritionally balanced daily specials to standard menu items.
The cafeteria is well equipped with infection control measures, such as the establishment of partitions, which means that people can talk to each other within a certain range. Whether employees are familiar with one another or not, anyone can seize the opportunity of sitting down at the same table as a chance to communicate.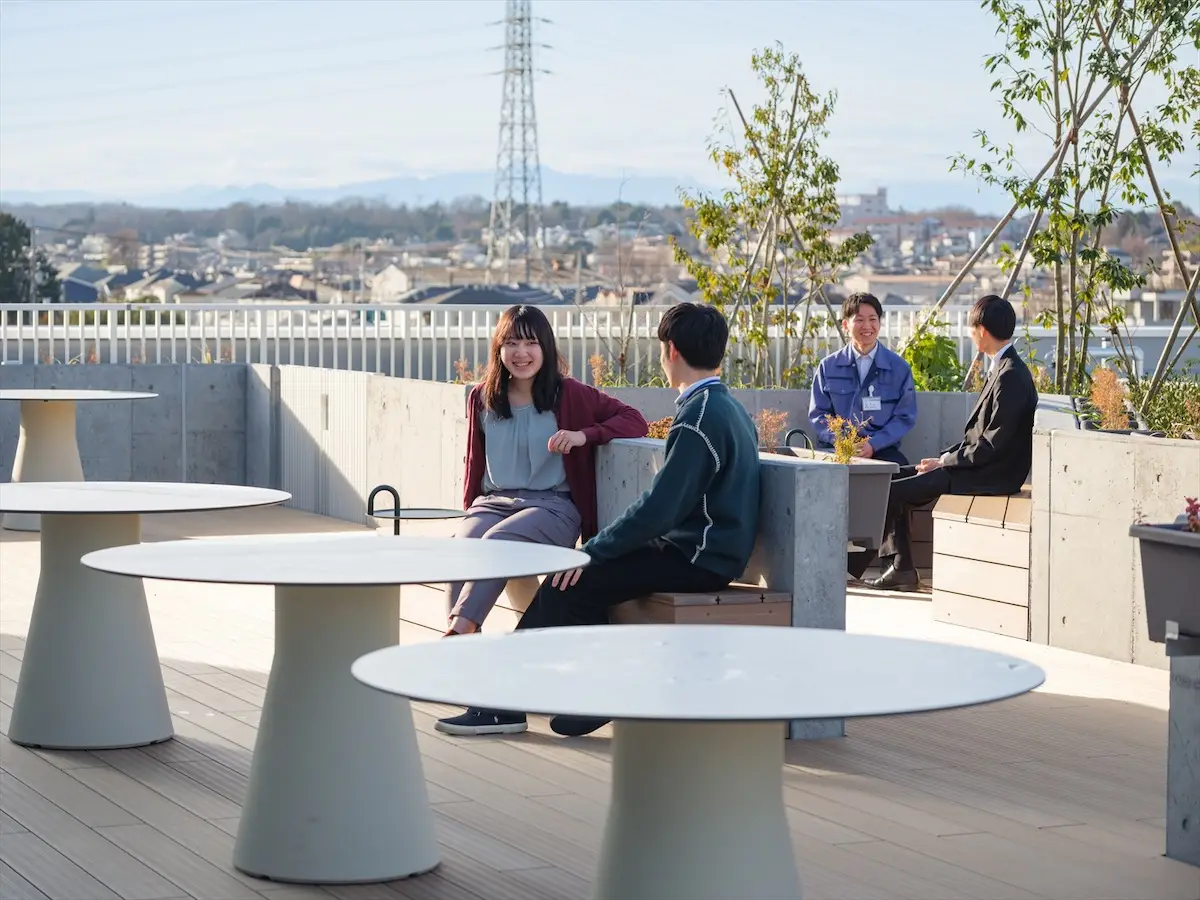 In addition, one of the key features is the introduction of IoT infrastructure that is in place. This makes it easier to maintain operational efficiency and active communication within such a highly flexible facility and where such highly flexible working styles are involved.
Each employee has a tag that emits radio waves, so it is easy to see who is where using a PC or smartphone at the Medical Research and Technology Center building (excluding privacy areas).
In the case of engineers, they may spend all day in a special testing room or in a work room for evaluation tests and the processing of parts, so this mechanism of allowing someone to know who is where, is very useful.
Not only can you find out where people are, but if there is a task you're working on, you can ask them if it's okay for you to go talk to them a little. Or, you can ask them to participate in a meeting away from the site for a little bit, and so on. One can make guesses as to the situation of another individual and respond accordingly. We'd really like to see employees make use of this mechanism when there is someone they want to communicate with.
――So, things are set up everywhere in a manner which serves to encourage interaction. Are there any other elements at the facility that the company has been particular about?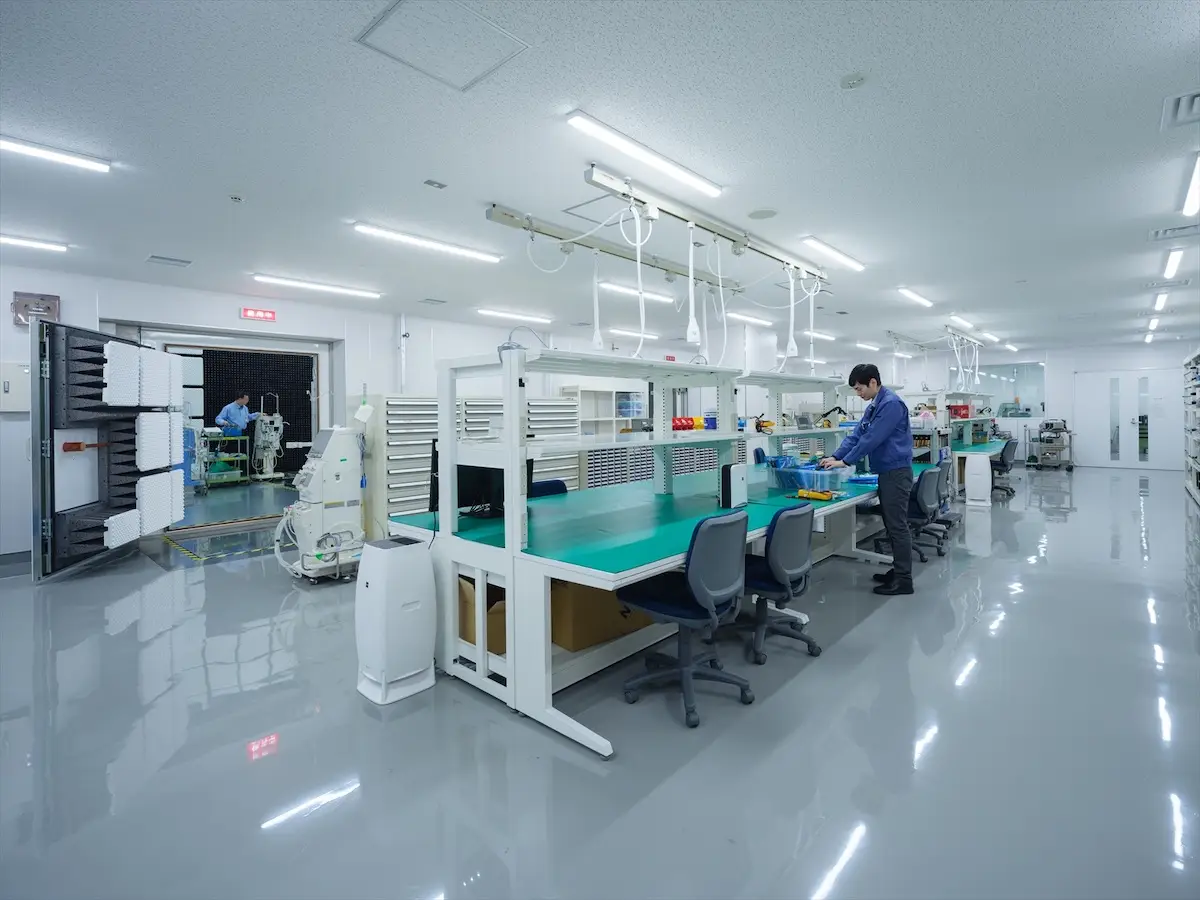 Yokoyama: In order to improve the quality and safety of our products, we have created an environment in which high-quality research can be conducted safely through the introduction of equipment conforming to the latest standards and through the creativity deployed when going about designing the facility.
The facility is fully equipped with equipment to properly dispose of infectious waste, including a room where testing involving the handling of blood can take place and an anechoic chamber based on the latest standards. There is also a Continuous Lab available, which is used to confirm product safety through the configuration of environments involving harsh temperatures and humidity levels and subsequent continuous operation of equipment for long periods of time.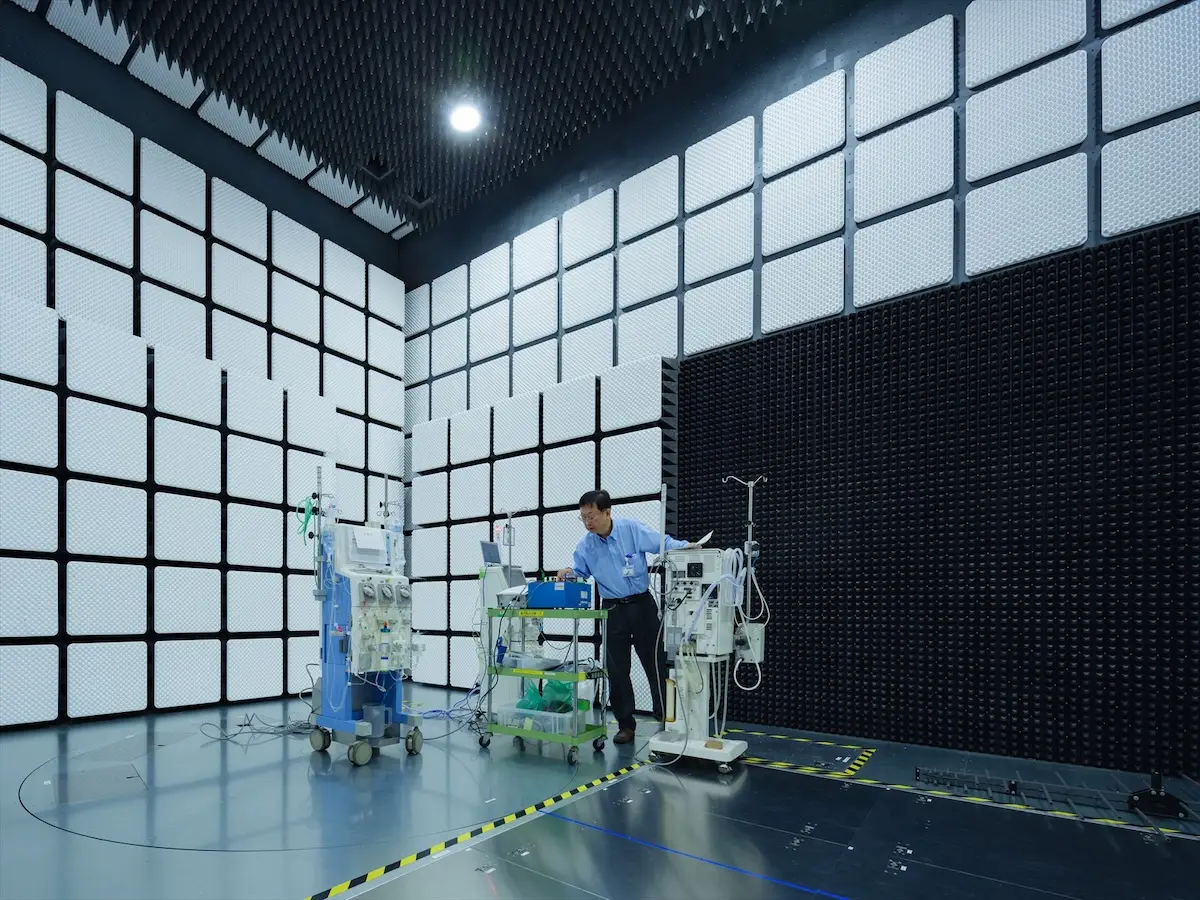 Anechoic chamber (room for measuring the effects of electromagnetic waves from outside) based on the latest standards
Through dialogue with healthcare professionals and research institutions, we strive to pursue and give shape to what Nikkiso dialysis machines can achieve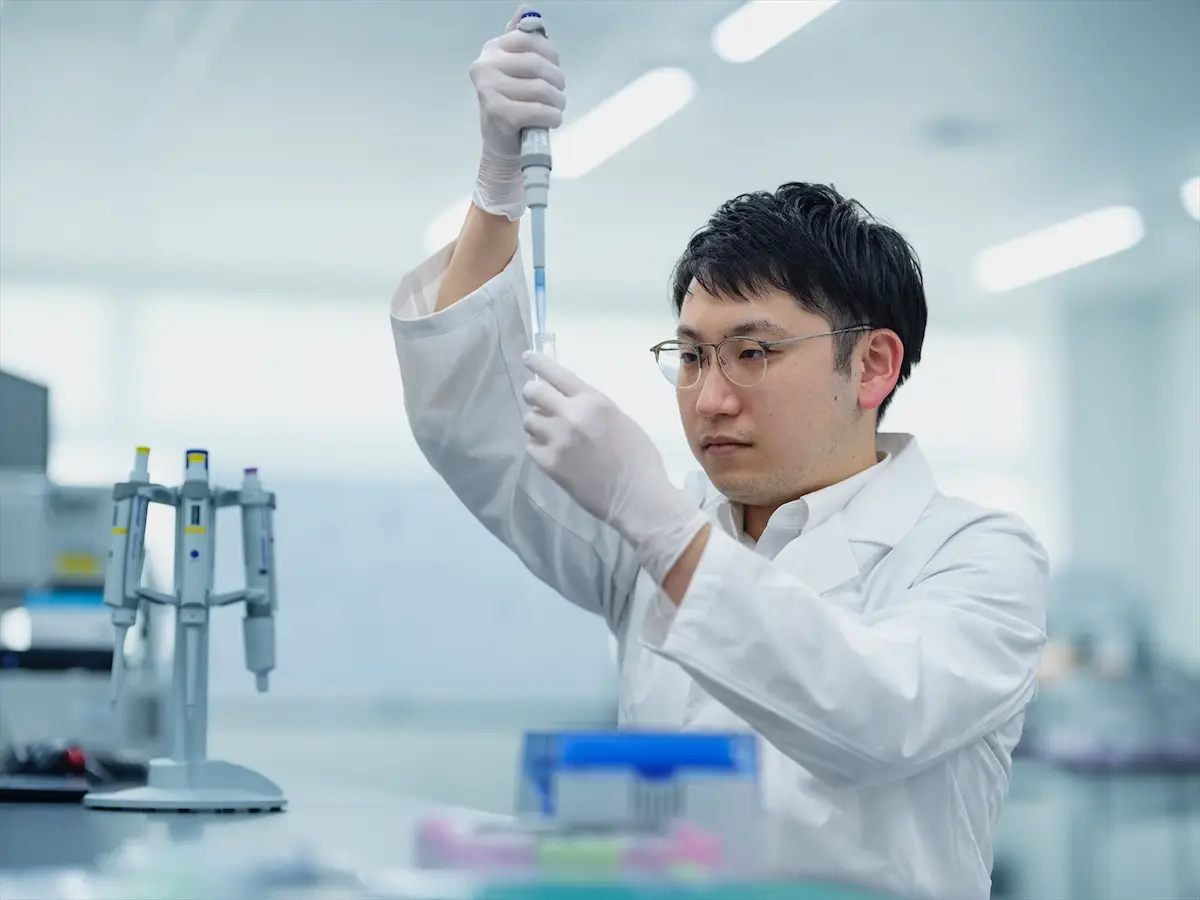 ――What kind of value do you want to provide in the future through R&D at the Medical Technology Center?
Yokoyama: As a pioneer when it comes to dialysis equipment, Nikkiso has been developing, manufacturing and selling equipment, maintaining it, and reducing the burdens faced by healthcare professionals and patients. We are proud that we have contributed to this area to some extent, but we want to take things even another step further in the future so that we can support medical care involving dialysis in Japan.
In order to reduce the burden borne by healthcare professionals, which I mentioned at the beginning, the theme for the future will be to take on the challenge of providing support for actual treatment, such as by having dialysis equipment provide information necessary for determining treatment conditions.
But this is not an initiative that we as manufacturers can undertake alone. In collaboration with healthcare professionals or research institutions, we want to pursue the limits of what our products can do and subsequently leverage their feedback to give shape to products reflecting what we've learned during that process.
――Thank you. To finish the interview, would you please provide a message to future colleagues that will eventually be working on manufacturing together with you at Nikkiso?
Yokoyama: I believe that the important thing when it comes to the work of manufacturing medical devices is to keep trying new things while focusing on quality and safety in order to deliver what customers require.
I look forward to working together with those able to work on manufacturing with a sense of responsibility and who are able to work with a positive attitude the work they are looking to do.