ENRICH OUR LIVES
2023/09/06
When will eVTOLs become practical? A thorough explanation of everything from the basics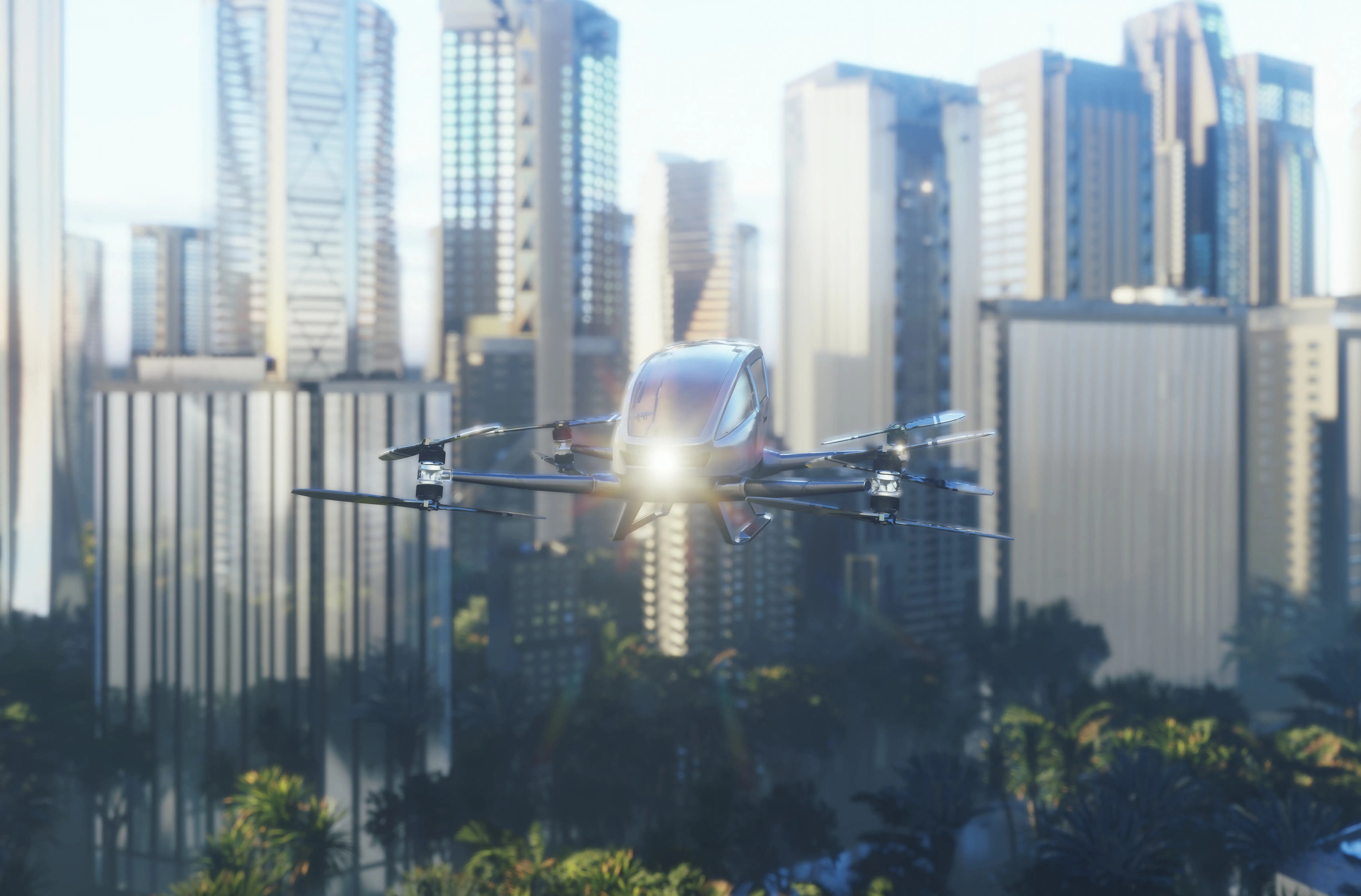 In recent years, countries around the world have been developing eVTOL aircraft, as a new form of mobility.
This article provides an overview of the eVTOLs for which progress is underway, details on issues facing their practical use, and the development status of each company.
Basic knowledge on eVTOLs
What are eVTOLs?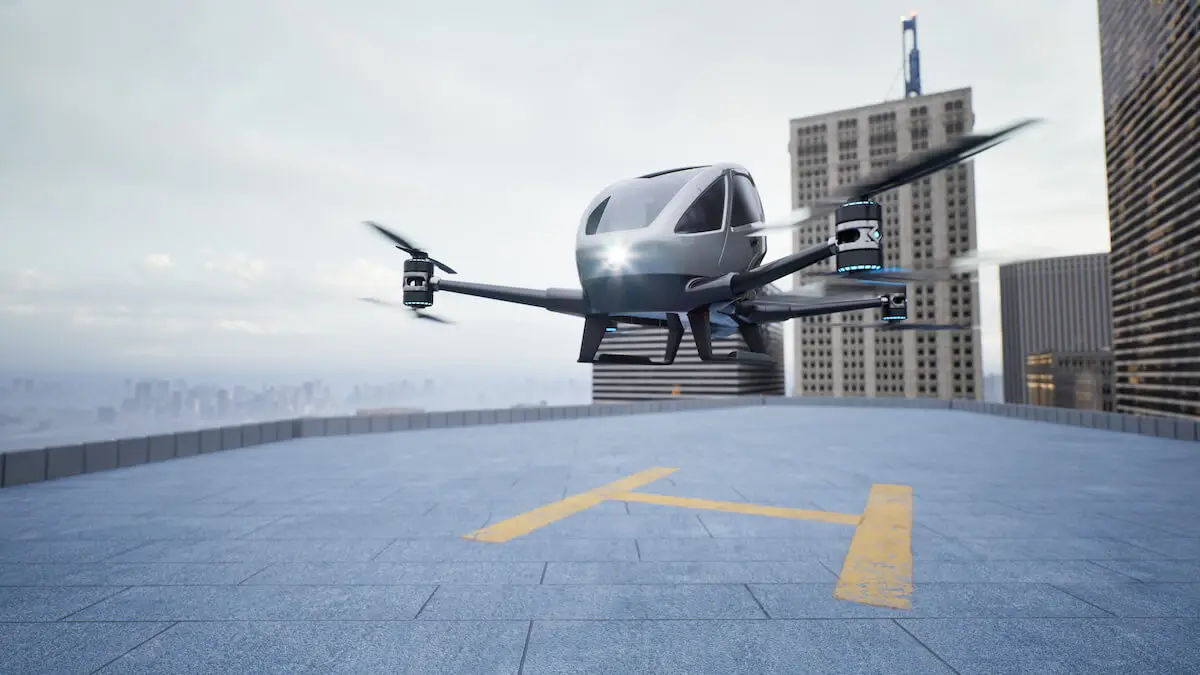 eVTOL (Electric Vertical Take-Off and Landing aircraft) refers to any electric vehicle that takes off and lands vertically. These vehicles combine drone and electric vehicle technologies, and are designed to generate lift and thrust by spinning multiple rotors using electric motors. In Japan, eVTOLs are also called flying cars.
Countries around the world are now seeing efforts being made in aims of practical use, as well as active technological developments and demonstrations.
The difference from helicopters
Although eVTOLs and helicopters are similar in appearance, given that they both use spinning rotors, there are distinct differences. Comparing the characteristics of eVTOLs and helicopters, we see the following:



Helicopter

eVTOL

Power source

Fuel


Battery
(including when used together with a generator)

Number of rotors

One

Multiple


Operation

A pilot operates the controls
Has high compatibility with automated flight

One feature of eVTOLs is that they are electric, which means they curtail noise and greenhouse gas emissions during flight.
This also means that they do not require fuel lines and complex rotating mechanisms, and therefore have simpler structures and fewer parts than helicopters. This also helps reduce the cost of maintenance and the risk of failure.
In addition, a single rotor failure can make flying a helicopter difficult, whereas some argue that because eVTOLs are equipped with multiple small rotors, they can compensate for the loss of some rotors using the remaining ones.
Benefits of eVTOLs
Characterized by a high degree of freedom in takeoff and landing sites and a low level of noise, commercializing eVTOLs would potentially allow for the following:
Use as a means of distribution and transportation to remote islands, mountainous areas, and other difficult to access places
Transport of goods to areas affected by road closures, as well as emergency transport
Smooth work and school commutes that avoid congested public transportation and roads*
These are just a few of the cases where they may offer advantages.
*Those eVTOLs being developed with a focus on relieving traffic congestion from work and school commutes, for example, in urban areas are called UAM (Urban Air Mobility).
When will eVTOLs become a reality?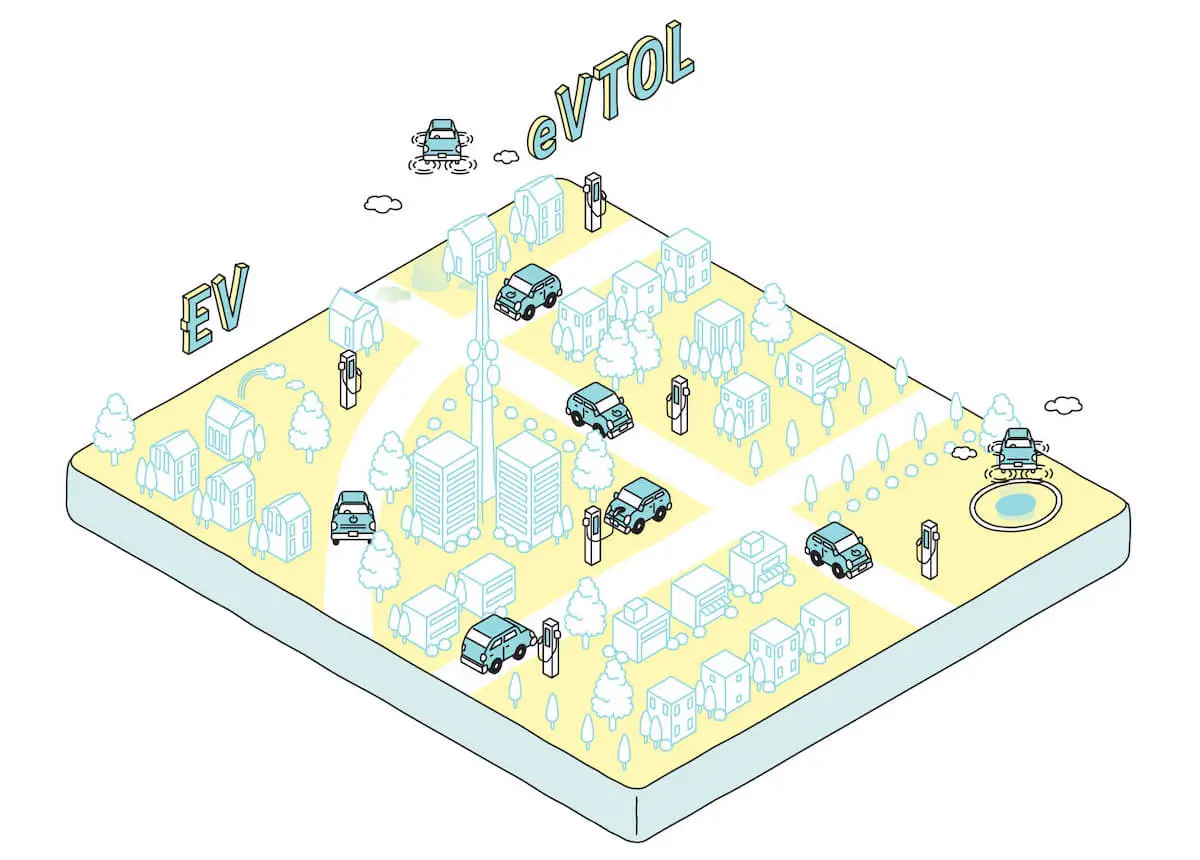 In order to realize the concept of eVTOLs, the public and private sectors must without question work together to advance technological developments and environmental improvements in parallel.
Established by public and private stakeholders based on this idea, the Public-Private Conference for the Future Air Mobility Revolution held a series of discussions on the matters that must be tackled in tandem by both parties, and compiled the Roadmap for the Air Mobility Revolution* in December 2018.
*Revised March 18, 2022
Targeting introduction at Expo Osaka in 2025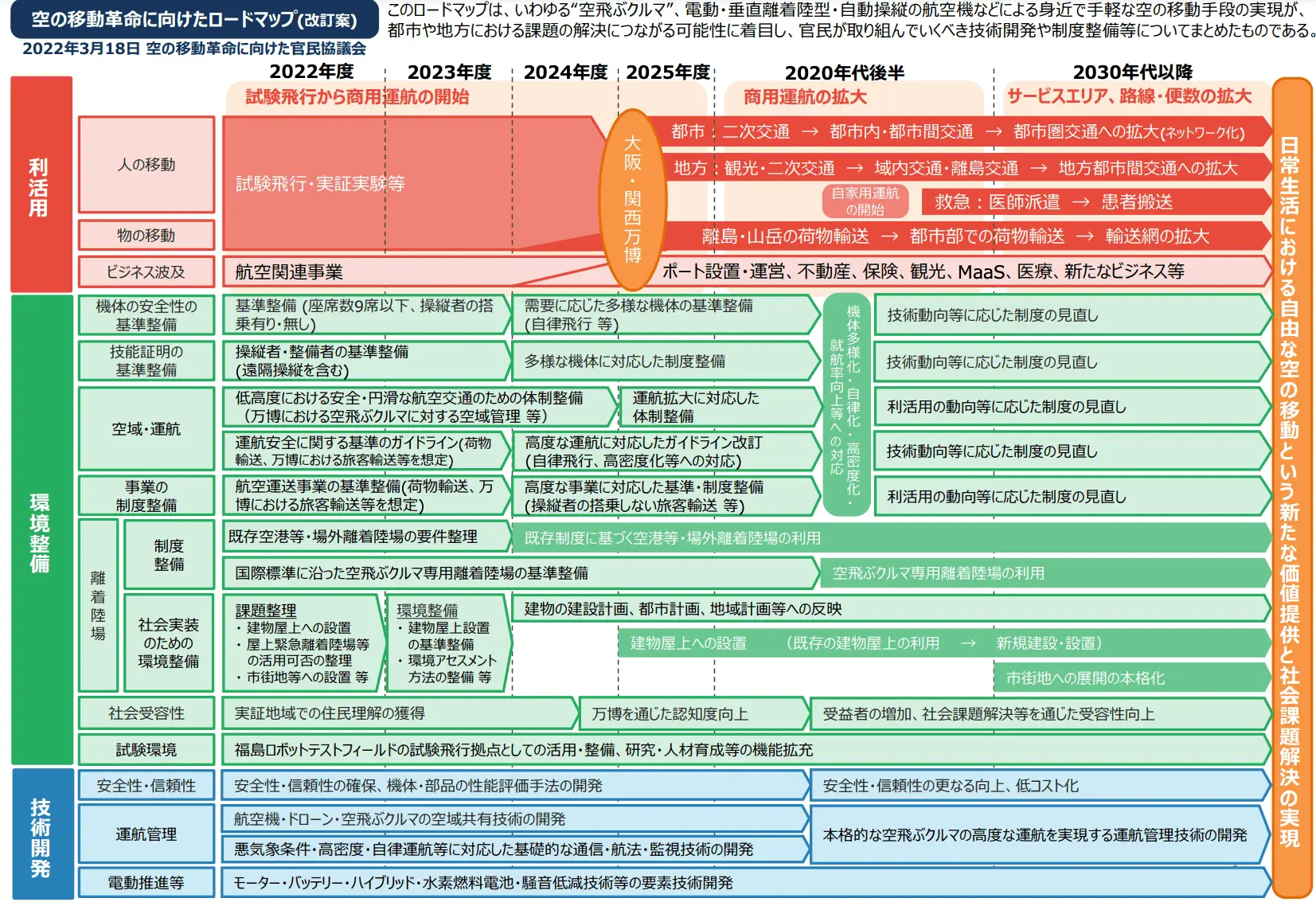 (Source: Ministry of Land, Infrastructure, Transport and Tourism "Roadmap for the Air Mobility Revolution (March 18, 2022 revised version)")
According to the roadmap, the government's policy seeks to fully introduce eVTOLs at Expo Osaka, Kansai, scheduled for 2025.
In addition to a concept that will connect and transport visitors from Kansai Airport and Kobe Airport to Yumeshima, the site of the Expo, other proposals aim to link the Expo with Osaka's urban areas and bay area to help as many people as possible become familiar with eVTOLs.
In this way, the Expo is expected to serve as an important first step in expanding the introduction of eVTOLs thereafter.
Potential for flights of private eVTOLs to start in the late 2020s
According to the roadmap, the operator side is working along the following schedule:
FY2022-FY2024: Conduct test flights and demonstrations, etc.
FY2025: Begin full-scale introduction at Expo Osaka, Kansai
Late 2020s: Further improve safety and reliability, as well as lower costs
During the late 2020s, the roadmap envisions the field will expand commercial operations and begin flights by private eVTOL.
Challenges for commercializing eVTOLs
Next, we will highlight three major challenges facing the commercialization of eVTOLs.
Technological progress
Further extending the distance that eVTOLs can fly will increase the areas where they can play an active role, which has led to expectations for technological developments that enable safe, long-distance flights.
In particular, the two most important issues are advances in battery technologies that enable lightweight, high-capacity power supplies and reductions in airframe weights. In order to achieve these goals, hopes have been placed on the commercialization of all-solid-state batteries*1 that can achieve higher capacities and outputs than lithium-ion batteries, and on the development of airframes made of lightweight, high-strength carbon fiber reinforced plastic*2.
*1 A battery in which all components are made of solids
*2 A composite made by adding reinforcing carbon fibers to plastic
Infrastructure improvements
In order to take root as a new mode of mobility, eVTOLs will require the preparation of infrastructure that supports flight operations, in addition to aircraft development.
For example, eVTOLs require the construction of takeoff and landing sites equipped with battery charging and replacement facilities, airspace control for safe operations that avoid collisions and other accidents, and the establishment of wireless communication systems.
Preparation of laws and systems
Another essential matter for safe operations is the preparation of laws and systems.
Airplanes, helicopters, and drones each have their own rules regarding the skills required by operators to fly specific types of aircraft, and the types of areas that they can be flown.
eVTOLs have characteristics that differ from those of existing vehicles, so the government must review laws and systems, and establish new standards.
Development status of each eVTOL manufacturer
At present, various manufacturers from around the world and of all sizes are competing to develop eVTOLs. Here, we will introduce the development status of the major manufacturers.
Joby Aviation: Received FAA approval to commercialize flying taxis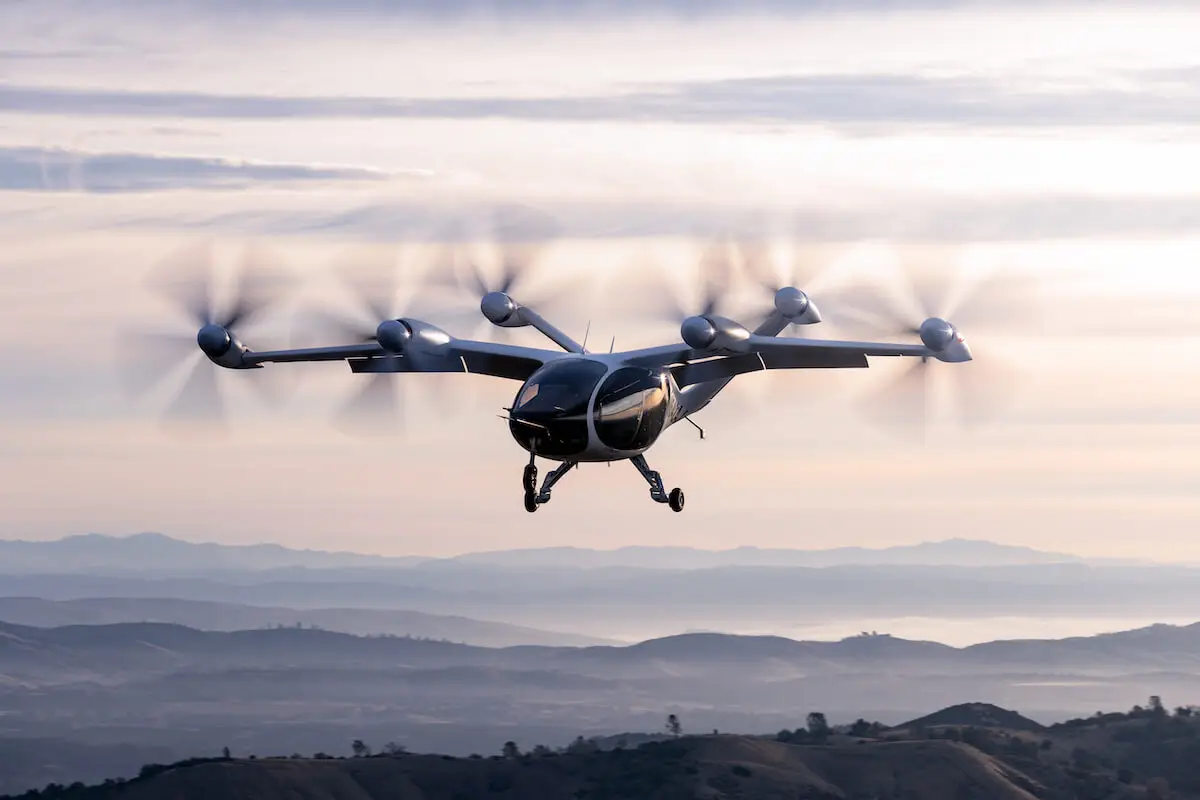 Source: Joby Aviations
As a US startup, Joby Aviation has developed eVTOLs since its establishment in 2009, and has been perfecting and demonstrating a five-seat aircraft for one pilot and four passengers in aims of launching an air taxi service in US cities in 2024. Toyota Motor Corporation has also invested in the company, and cooperates in the development and manufacture of the aircraft.
In May 2022, the company announced that it had received Air Carrier Certification from the FAA (Federal Aviation Administration), which is required to provide its services.
(Reference: Joby Aviation 「Joby Receives Part 135 Certificate From the FAA」2022, 5)
As for the provision of services in Japan, the company announced in February 2022 that it had entered into a partnership with ANA Holdings and began an air taxi feasibility study.
(Referance:Joby Aviation 「ANA Holdings and Joby Partner to Bring Air Taxi Service to Japan」2022, 2)
Volocopter: Made the first successful flight of a four-seat eVTOL
As a German startup, Volocopter has been working to develop its two-seat VoloCity, four-seat VoloConnect, and VoloDrone cargo drone.
Suitable for short-distance urban travel, VoloCity is being developed to meet the stringent aviation standards and requirements established by the European Union Aviation Safety Agency (EASA), and is slated to begin operations in 2024.
In June 2022, the company also announced that its new VoloConnect, four-seat and fixed-wing eVTOL, had successfully made its first flight. VoloConnect is slated to begin operations in 2026.
In 2020, Volocopter formed a business partnership with Japan Airlines (JAL) in the field of air mobility, and began working to provide mobility and goods transport services in Japan. With the goal of providing service at Expo Osaka, Kansai, in 2025, the company intends to conduct public test flights in Japan as early as 2023.
(Reference:Volocopter「Volocopter's 4-Seater Aircraft Takes First Flight」2022,6 「Volocopter Joins Osaka Roundtable to Bring UAM to Japan」2021,10)
Lilium N.V.: Adopted a new motor towards commercial operations of its seven-seat Lilium Jet
Another German startup, Lilium N.V. designed, built, and tested the seven-seat Lilium Jet. Intended to carry one pilot and six passengers, this eVTOL aims to provide high-speed, sustainable interregional transport services that are accessible to all.
In an effort to commercialize Lilium Jet, in May 2022 Lilium partnered with DENSO and Honeywell, and adopted a new electric motor that was jointly developed by these two companies. Compact and lightweight, this motor emits no exhaust gas when operating. They also entered into a research and development cooperation agreement with Livent Corporation, a leading manufacturer of lithium-ion batteries.
(Reference:DENSO「DENSO, Honeywell Co-Develop E-Motor for Lilium's All-Electric Jet」2022, 5)
(Reference:Lilium N.V.「Lilium and Livent Announce Collaboration to Advance Research and Development for High-Performance Lithium Batteries」2022, 5)
SkyDrive: Successfully made Japan's first public manned test flight
SkyDrive Inc. is a Japanese startup that develops flying cars and logistics drones. In aims of launching a flying car business around 2025, the company participates in the Public-Private Conference for the Future Air Mobility Revolution, and has conducted test flights.
In August 2020, SkyDrive unveiled its SD-03, a flying car developed jointly with the CARTIVATOR volunteer group, to the world for the first time, and successfully conducted a public manned test flight using the aircraft.
(Reference:SkyDrive「SkyDrive Conducts First Public Manned Flight in Japan – SD-03 manned model makes its world debut-」2020,8)
EHang: Successfully flight tested an autonomous eVTOL in four cities in Japan
The Chinese drone manufacturer EHang has been developing Autonomous Aerial Vehicle (AAV) technology, and announced the EHang 184 single-seat autonomous eVTOL and the two-seat EH216.
The company has held test flights in countries around the world. Following its 2021 demonstration flights in Okayama and Fukushima, Japan, it successfully conducted demonstration flights in the Kansai, Kyushu, and Shikoku regions in July 2022. All of the test flights used the passenger-grade EHang 216 AAV, and were the first test flights of an unmanned eVTOL to be made in Japan. The EHang 216 is slated to fly at Expo Osaka, Kansai, in 2025.
(Reference:EHang「EH216 Completes Demo Flight Tour in 4 Japanese Cities to Mark 1,000-Day Countdown of Expo 2025 Osaka, Kansai」2022,7)
Eve Air Mobility: Orders received for 2,060 aircraft produced under the umbrella of Embraer, a leading aircraft manufacturer
Eve Urban Air Mobility is a startup owned by Embraer, a leading aircraft manufacturer from Brazil. The company is working to develop a four-seat eVTOL in aims of starting operations in 2026.
After announcing that it has already received orders for 2,060 aircraft from 22 companies, it unveiled a full-size mock-up of the eVTOL cabin for the first time at the Farnborough International Airshow in July 2022.
eVTOLs and Nikkiso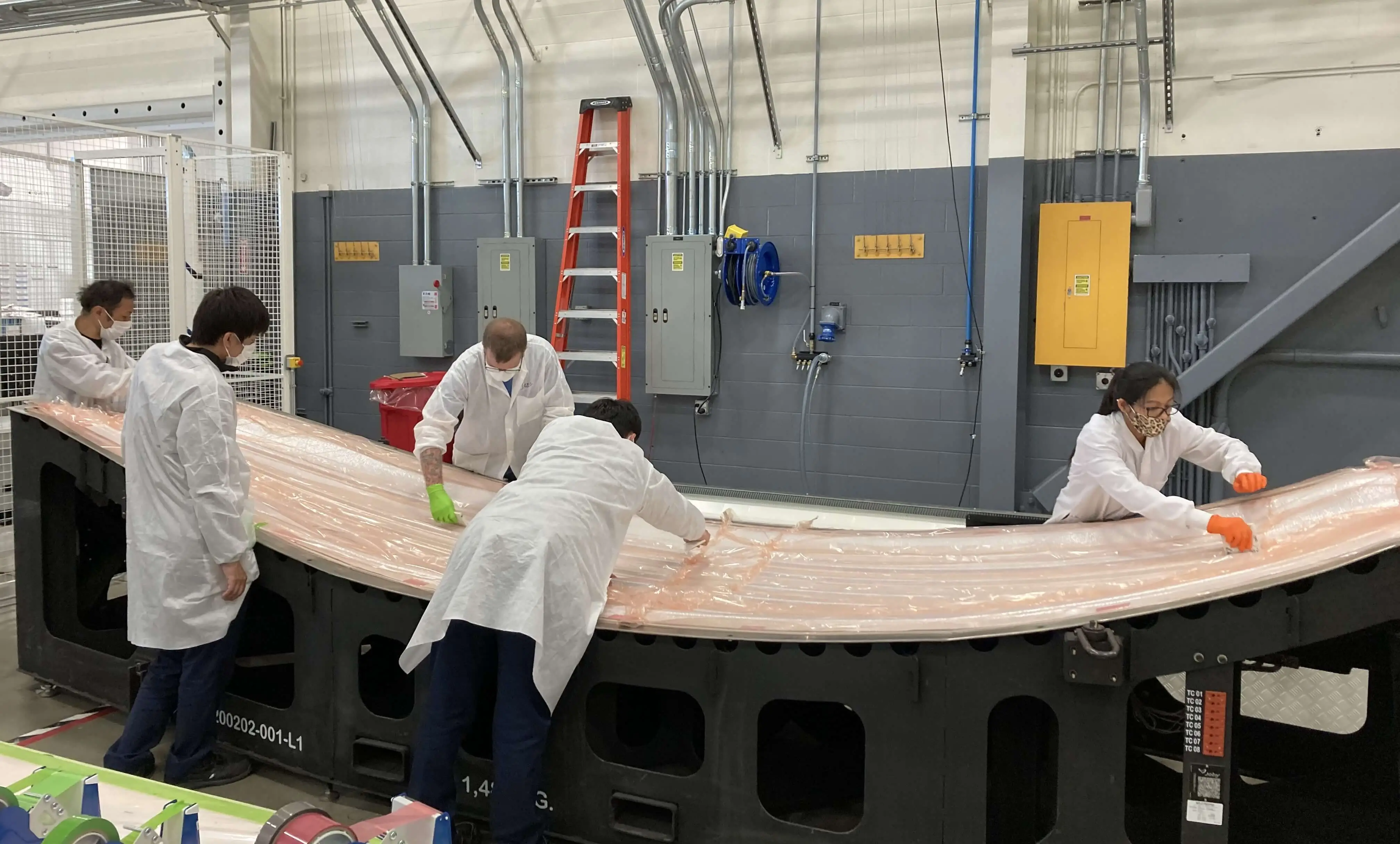 Nikkiso's technology and manufacturing experts work with Joby employees on a prototype at the Joby Aviation plant in California, USA (provided by Joby Aviation)
Nikkiso was selected as a Joby Aviation supplier in 2021. Because many eVTOL parts are expected to be made of carbon fiber reinforced plastic (CFRP) in order to reduce the weight of airframes, Nikkiso has been working to achieve mass production with reliable quality by leveraging the technology and experience we have accumulated through the manufacture of CFRP aircraft parts.
In March 2022, Joby and its suppliers gathered their respective knowledge bases at the company's manufacturing plant in California, USA, and held a workshop to discuss manufacturing methods for commercializing flying cars. Nikkiso engineers also participated in this event, and now provide support towards future mass production as they play a role in the actual work processes for the prototypes.
Q&A regarding eVTOL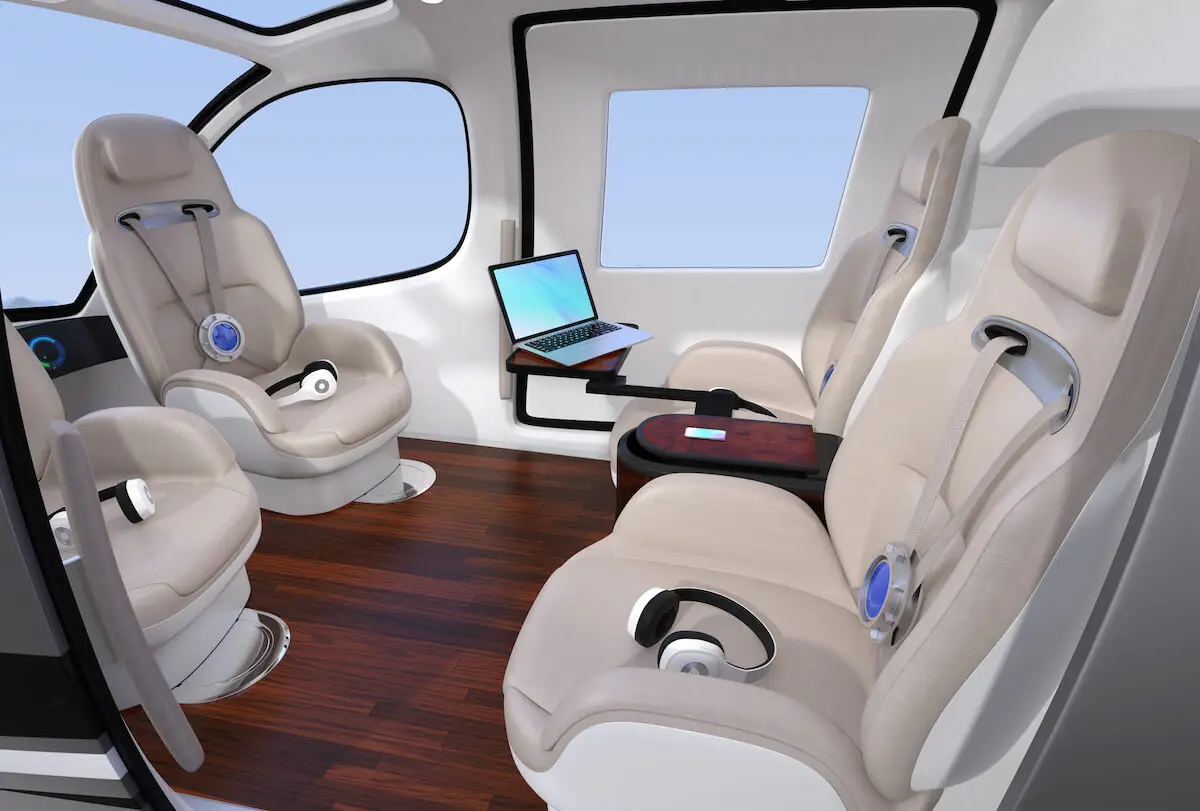 Do I need a license to operate an eVTOL?
The Public-Private Conference for the Future Air Mobility Revolution is currently studying the qualifications and standards that must be established for eVTOL and other flying car operators and mechanics.
However, in order to simplify operations, we anticipate the development of safer and easier to operate aircraft, as well as the establishment of qualifications that are less difficult than those for helicopter pilots.
How much does an eVTOL cost?
The price of an eVTOL varies depending on the complexity of the structure, the maximum flight distance, and other conditions.
For example, teTra aviation, a startup launched by the University of Tokyo, began accepting pre-sale orders in the US in July 2021 at prices starting at 40 million yen.
(Reference: Nihon Keizai Shimbun「Tokyo University's Flying Cars to Begin Pre-sale Orders in the US at the End of July」)
When will the general public be able to ride?
The government has envisioned a concept for fully introducing flying cars at Expo Osaka, Kansai, in 2025.
Although still at the conceptual stage, if feasible, this approach will use flying cars to connect the Expo site with neighboring airports, Osaka's urban areas, and the bay area, for example, at which point the general public may be able to experience this new form of air travel.
Summary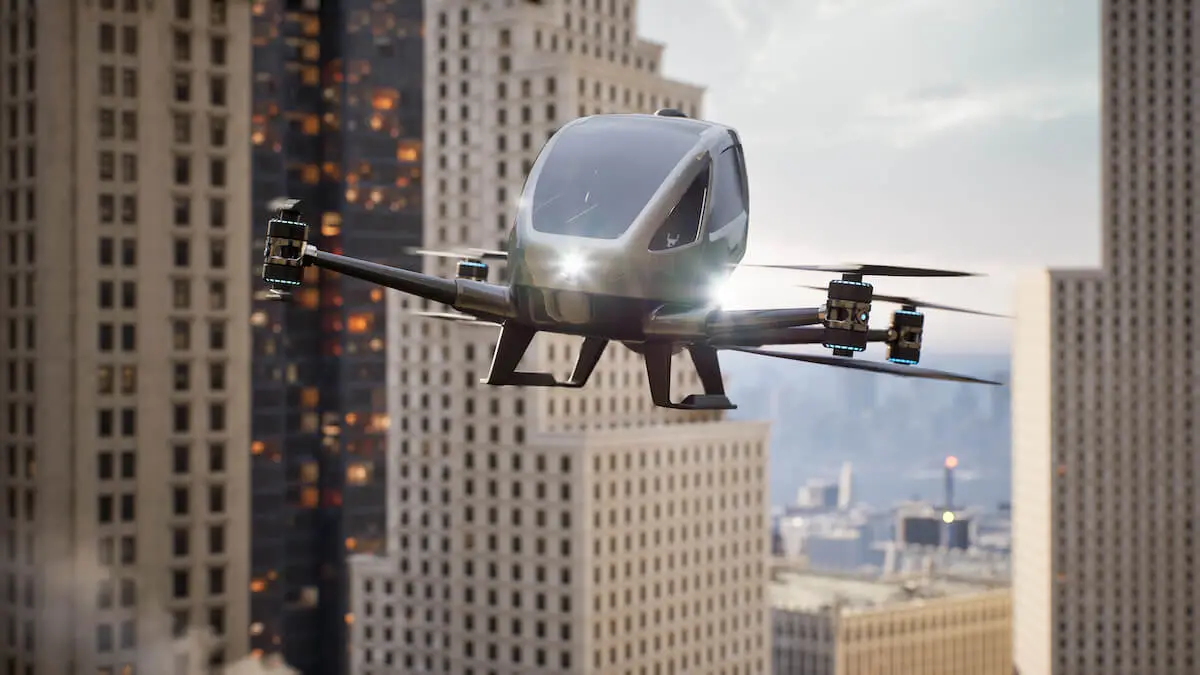 eVTOLs are garnering attention around the world as a means of transportation, in other words, as a new form of mobility. In aims of real-world implementation, efforts are being made to develop technologies for commercializing high-performance batteries and lightweight airframes, as well as to prepare the infrastructure and legal systems that support eVTOL operations.
Nikkiso will make every effort to reduce the weight of eVTOL airframes by leveraging the technologies we have cultivated through the manufacture of CFRP aircraft parts, and will contribute to realizing safe, long-distance eVTOL operations.